LaSharkhunter, LaSharkHunterJr, and myself decided to head out on Sat in search of Bull Sharks. Plan A was to try to snag some of the big bull sharks that have been spotted in Trinity Bay. After some preliminary recon, we decided to try a private pier in Beach City, TX (name withheld to protect the innocent). The LA boys got their first and did a quick kayak trip out to check conditions. Unfortunately, the pier we selected had water that was too shallow, so we aborted Plan A and went to Plan B, High Island. (Not giving up on Trinity yet, just need to find a better spot).Anway, we head down to High Island and set up camp to the left side of the highway as you enter High Island (about 2 miles left of Rocky's pier roughly). As you can see from the picture, the beach at high island is pretty rocky compared to Surfside and Galveston. It made sinking the rod holders a challenge. But the water conditions were pretty good, flat waves and we could see the green water a ways out. High Island seems to be a little muddier that Galveston and SS, so the water was a light chocolate. Perfect Bull Sharking water!
We set up 6 rods all with various types of Rays (southern, CowNose, Batray). After a couple hours, LaSharkhunters rod bends and the first battle is on. Troy's rod was a pretty stiff, but the shark was still giving a spirited fight. After about 15 minutes (give or take), Troy lands his first Texas shark! A nice healthly, spirited 4 1/2 footer. A few pictures of the fight, capture, and Jr with the release.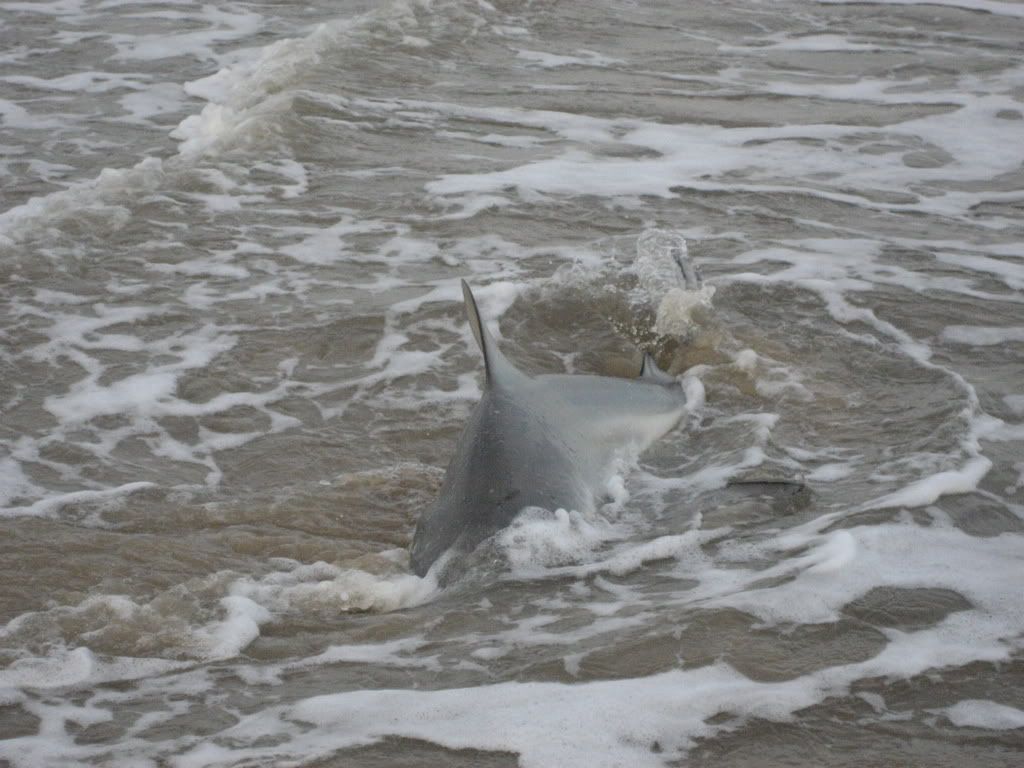 About an hour later, Troy notices two rods apparently going off. Seems like there is a shark on one of them, but we're not sure. So Troy grabs his rod and pulls a few times and we realize its Travis rod. So Travis takes over and starts fighting what appears to be a pretty good size shark, but after about 5 minutes, its spits the bait. At least it was exciting.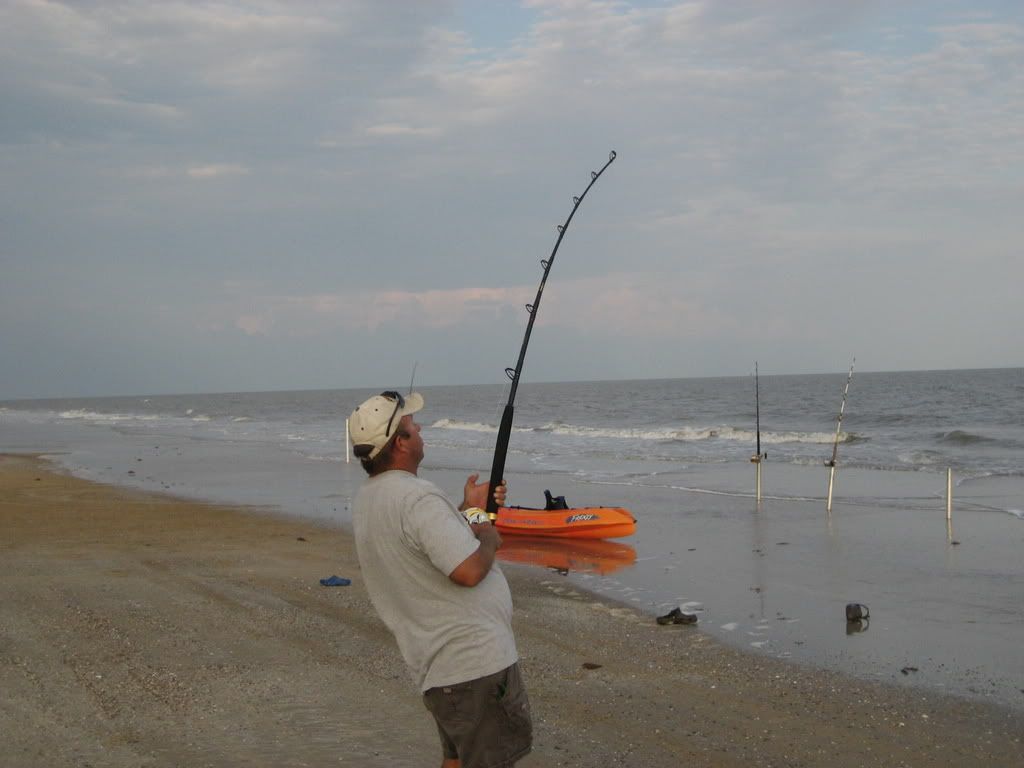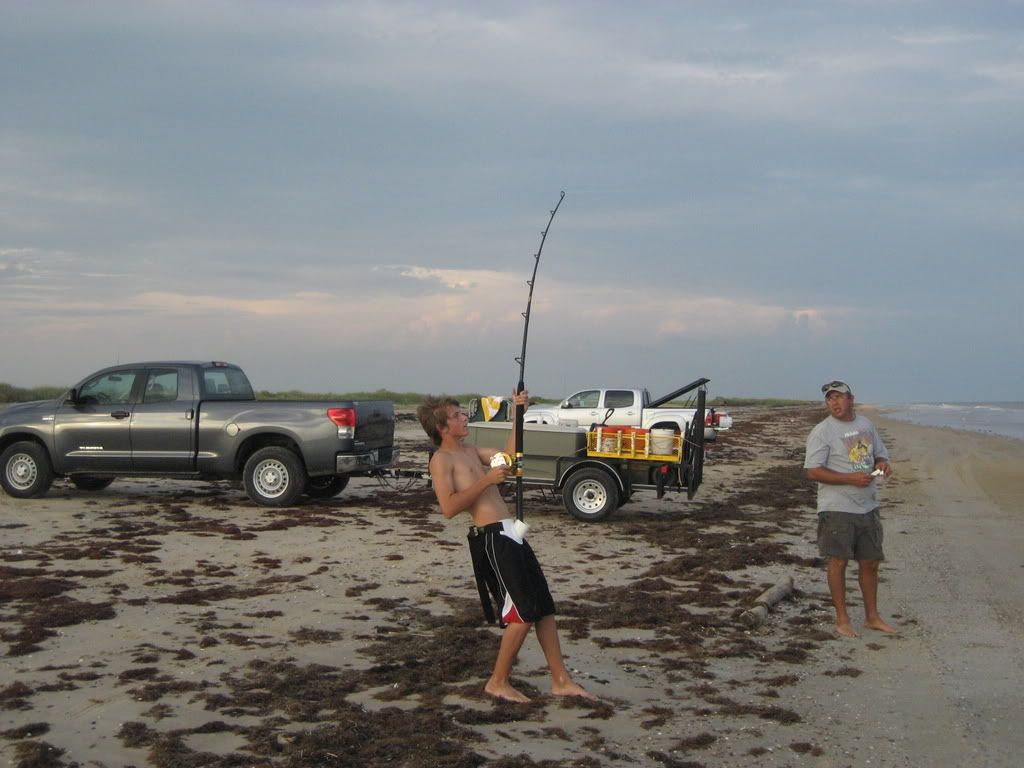 Things went a little quiet for the rest of the afternoon. Towards sunset, we checked and re-baited all the lines and got ready for a nice relaxing night. The mosquitos thought otherwise. If you haven't been to this part of High Island, there is a huge marsh behind the beach and with the light winds, the Off-resistant mosquitos where out in full force, after slapping at them for a while, we retreated to the Trucks. We also had a few thunderstorms drop a few drizzles, but nothing serious. Travis (Jr) donned his long pants and long shirts (two) and braved the mosquitos watching the reels late into the night. At about 2:30 AM, the same reel with the same bait that Troy caught the first shark, goes off. Travis grabs the rod and the fight ensues. After a 15-20 minute battle, another healthy, and ticked off 5′ 1″ bull shark is dragged to the beach. A few pictures of the encounter.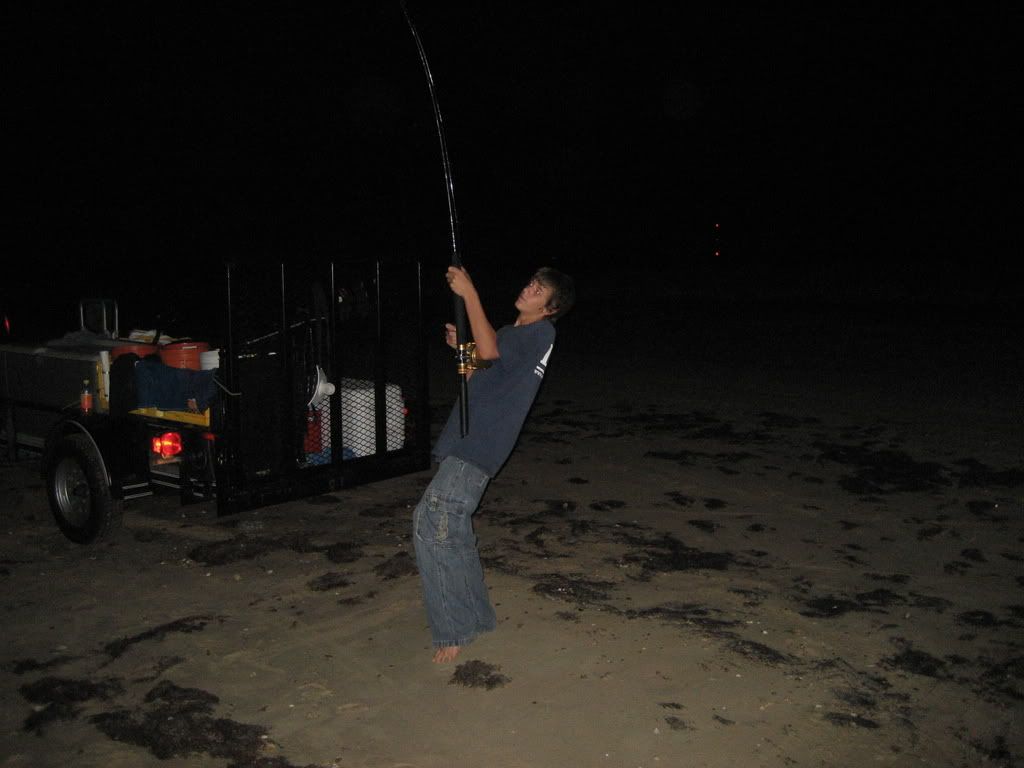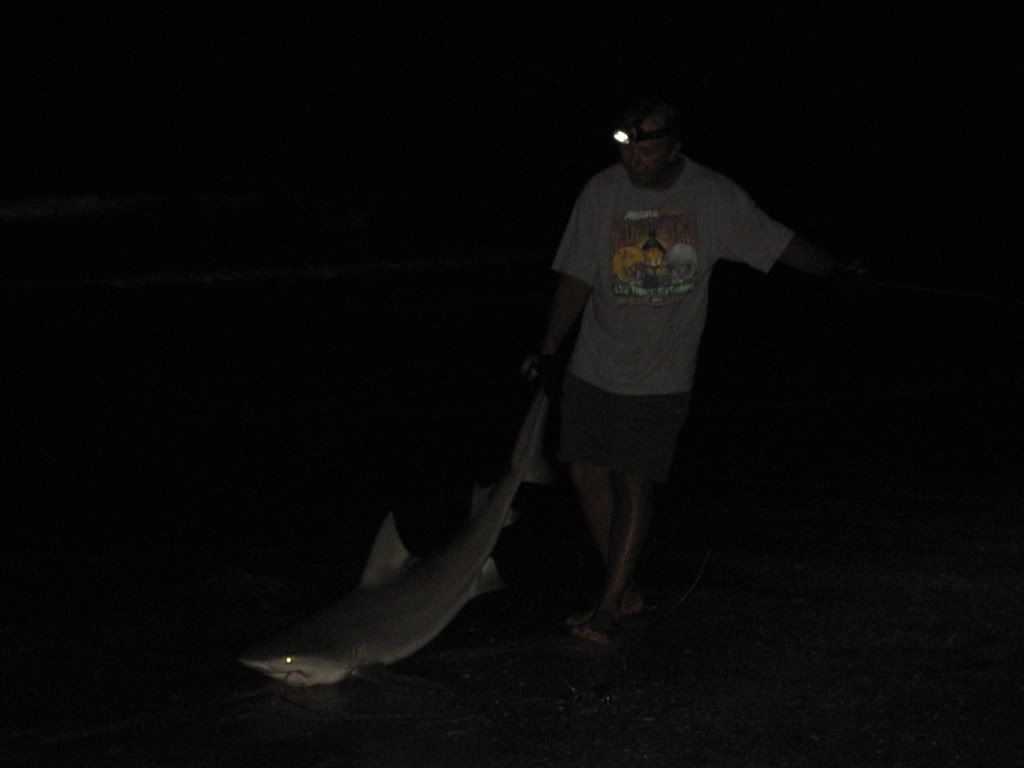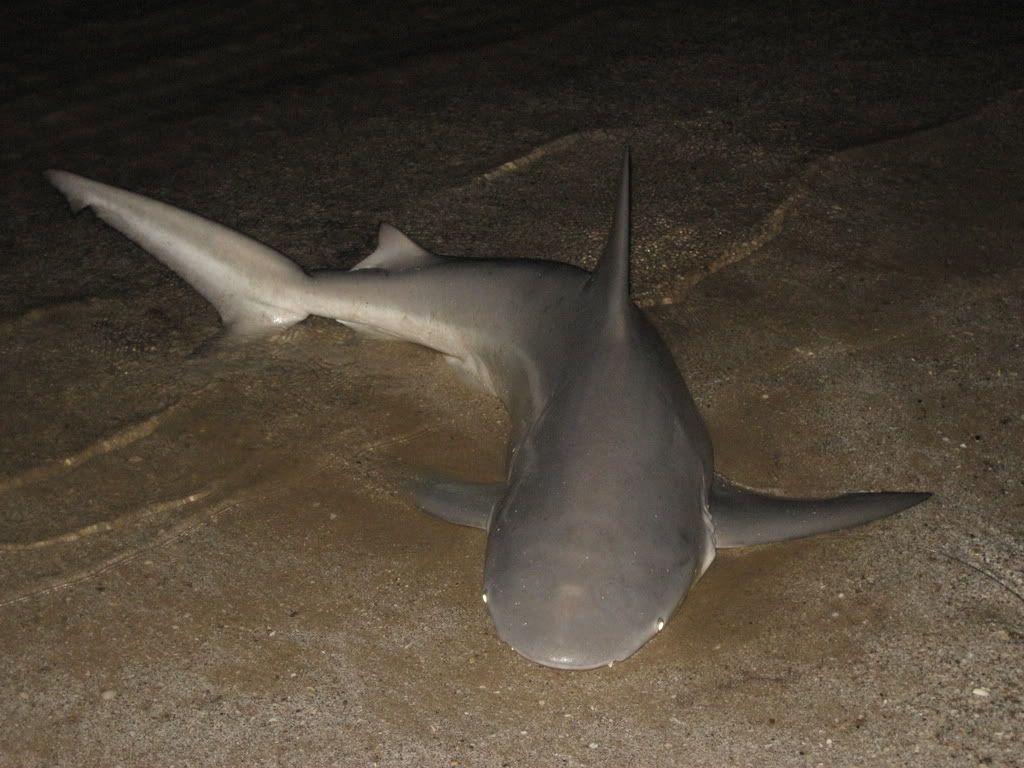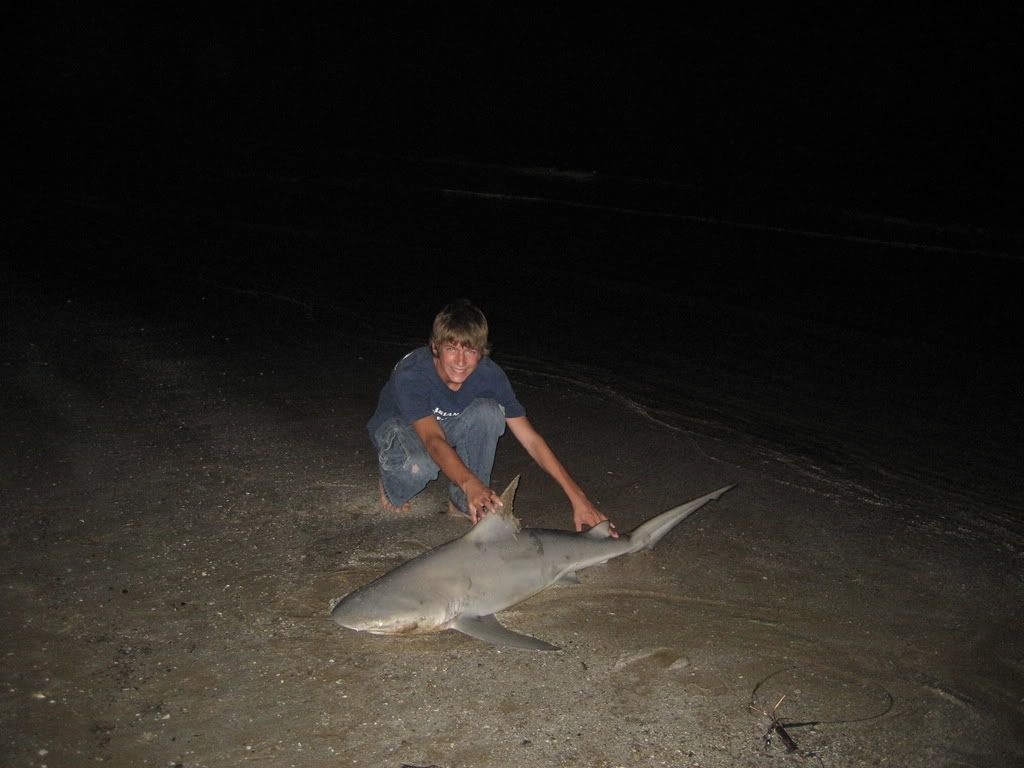 The rest of the night is uneventful. We awoke to really awesome conditions, but we all had to get back early so we starting packing up around 8 AM. I pulled in my 6/0 that had been soaking all night with a tasty chunk of Southern Ray and it apparently went untouched… puzzling. Anway, it was great fishing with the LaSharkhunters and it was fun being the cameraman for the their first Texas sharks. Looking forward to next time.